I am a well-known baker with lifetime depression issues, formerly "self-medicated" with methamphetamine, and other drugs, resulting in 4 prison stints before discovering Paxil, then Effexor, which made it possible for me to focus on doing good things, like making bread. After 8+ years of hard work building the DKB brand, which included speaking to many thousands of folks about my transformation and the power of second chances, I had my first bipolar manic episode on 11/14/13. This was covered heavily in the news. There is a lot that hasn't been told, and there is a lot of misinformation about the incident. After being diagnosed as bipolar–for the first time–which was after the incident, I started taking proper meds and began to understand what the term meant and how to avoid having a psychotic manic episode ever again. That terrible night was unbearably painful in a number of ways. The actual experience of "losing my mind" as well as the resulting stresses my company experienced (which, in itself, was a great weight on my shoulders), not to mention the devastation of letting down so many who believed in me, created my greatest adversity to date. But out of the ashes, rises the Phoenix once again! Before the incident, I had felt that I had a good reason to tell my story. And now, I think my vision/mission are even more powerful for helping others deal with their own challenges. As I overcome adversity once again, I want to share my experience with anyone who wants to hear it.

My latest venture (or should I say, adventure) is DiscoverAfrican Art. Through this new enterprise, I've been a part of providing food and other needed supplies to Africans in need, and a portion of the proceeds also goes to Central City Concern, and other causes close to my heart.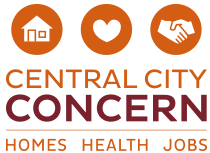 November 10, 2017: I support many causes, but my strongest allegiance is to Central City Concern, who has been and continues to be a much-needed provider of transformative opportunities for the "underdog." Seeing how mine and others' success has positively affected families, businesses, communities—our world—has compelled me to support and be a part of efforts to help as many people as possible find their own amazing path… their own "Dave's Killer Bread," if you will. I really can't emphasize enough how powerful this can be.